TROPE Portfolio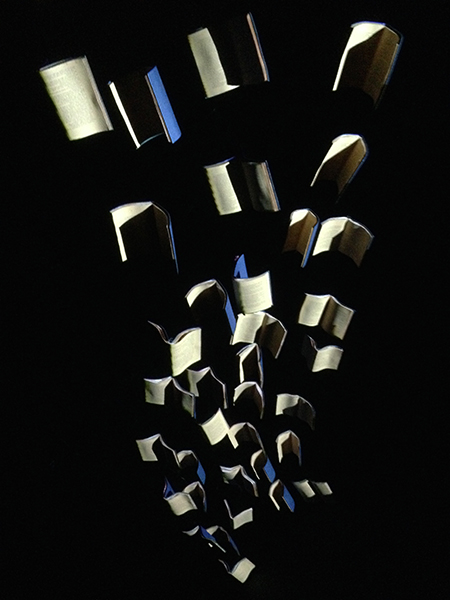 Libretto 2015
Variable size, min. 4m x 2m x 2m.
Prepared books, printed text, wood, wire, black paint, video projectors, speakers,
Kinetic, audiovisual installation
 Flocks of books burst through the walls and swirl across the ceiling in a riot of knowledge.
---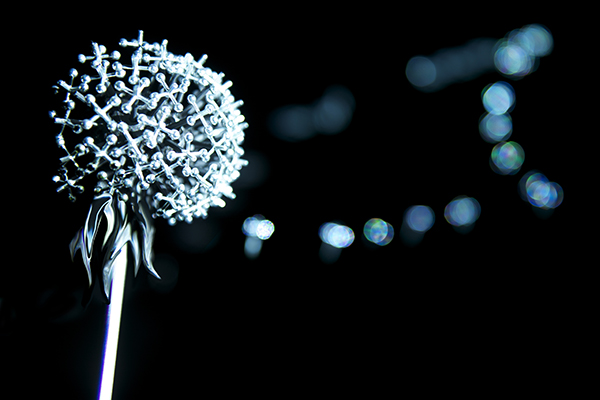 Dandelion 2014
4m x 4m x 3m.
Cast pewter, jacks, copper wire, rods, black paint, video projector, speakers, micro-controller, sensors,
Kinetic and interactive audiovisual installation
Dandelion is an interactive allegorical artwork where the breath of participants animates the sculpture.
The strongest universal urge for all living things is to live, and propagating life is our most potent, constructive and conscious expression of this intuition; but life is a gamble and our hopes and aspirations are dependent on the twists and turns of fate. Dandelion embodies the connection between breath and giving of life. The embodied breath travels across the gap between the real and the imaginary, and in this translation, transforms wishes and desires into a concrete metaphor for life and propagation.
---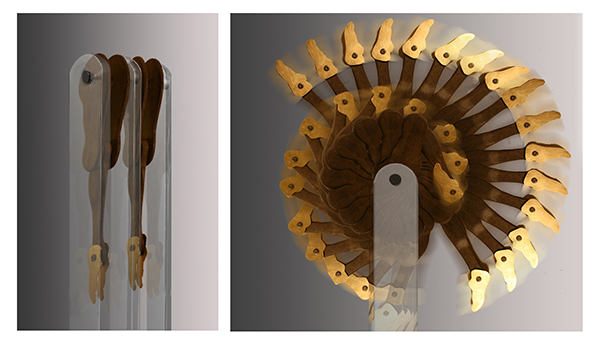 Bolt 2011
2m x 1.5m.
Perspex, metal bearings and wood.
Interactive mechanical sculpture
Bolt is a kinetic sculpture that plays with the interchangeability between the human and the mechanical and explores our perception of four-dimensionality allied to the theory of non-linear dynamics. Made as a commission for the Cultural Olympiad.
---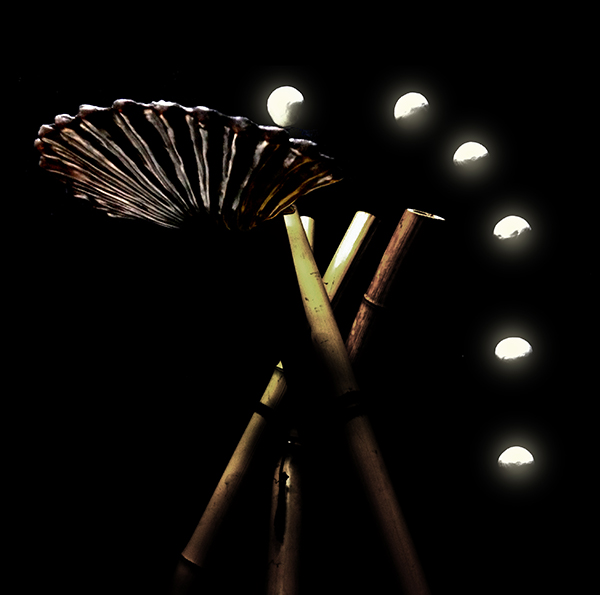 Codex 2014
3m x 6m x 3m.
Bamboo, cast resin and bronze powder, steel, cast concrete, clay, foam, electronics, video projector, speakers, micro-controller, sensors,
Kinetic and interactive audiovisual sculpture
Inspired by the stages on the shared and sacred Way of St. James, one of the most important pilgrimages during medieval times that travellers undertook to the city of Santiago de Compostela. Codex itself represents an allegorical interactive, illustrated journey towards a sacred place. Representative both of a pilgrimage and personal self-development, the symbolism of pilgrimage can be conceived through various prisms: philosophical, mystical, psychological or religious depending on the participant's own background and personal outlook. The artwork is meditative and offers a unique embodied experience for participants who can become co-composers by interacting with sound-sensing features created especially for the piece. It is a work that combines simple and timeless beauty with a sense of togetherness and a building of community.
---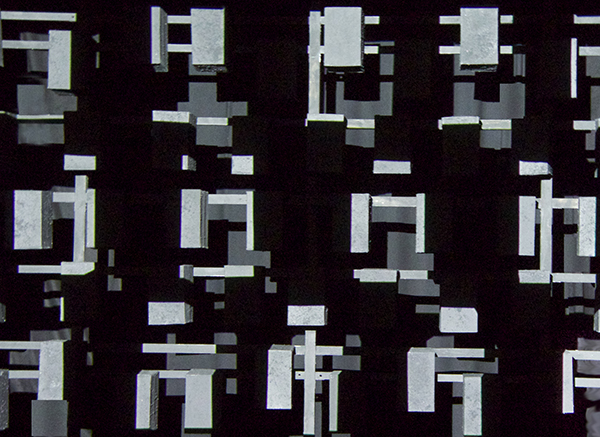 Falling sideways 2015
8m x 4m x 1m.
Simulated concrete blocks, (cardboard), wood, metal, black paint, grit, video projector, speakers.
Kinetic audiovisual sculpture
Falling Sideways is a monumental sculpture inspired by Cocteau's declaration that 'Life is a horizontal fall'. The immersive kinetic artwork draws on notions of conformity and non-comformity, developing audio-visual variations of harmony and disruption on a massive scale.
---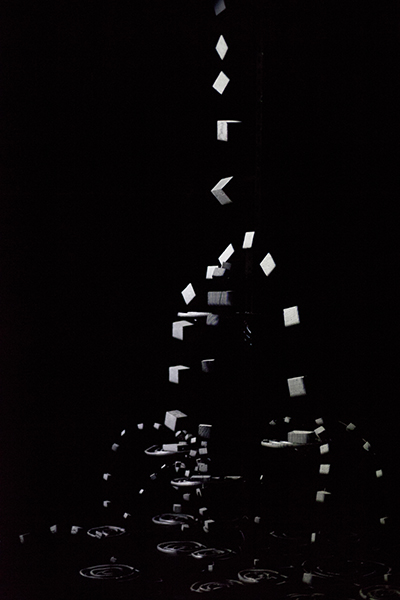 One, Two, Three… 2012
4m x 3m x 3m.
Polystyrene, foam insulation, copper wire, black paint, vocals, video projectors, speakers.
Kinetic audiovisual installation
One, Two, Three… celebrates animation as the 'spark' of life. There is a sense of cell division and evolution' but also of water and ripples. Drawing on a combination of Primordial Soup theory and Artifical Intelligence, using simple cubes as representations of the building blocks found in synthetic biology. The simple motif of 'three' represents a return from the binary nature of digital to something more analogue and flowing: Two points in space can be joined by an imaginary straight line; but with three points' an arc can be created' starting the viewer's eye on a journey. The work represents the evolutionary leap from the binary nature of simulated digital life to something more analogue and palpable: Artifical Life sparked by the power of three. This visual journey is accompanied by rhythmic vocal chants that lend a meditative mood to the piece.
---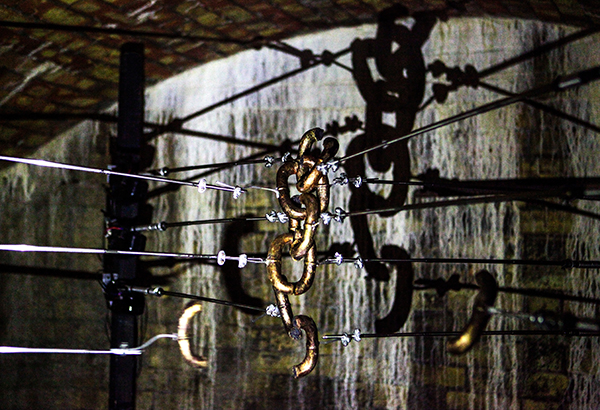 Chain Reaction (Artwork 2 of 5, machine of futility) 2015
2m x 2m x 2m.
Wood, plastic, paint, clay, wire, spot light, 12 x DC motors, micro-controllers,
Site-specific mechanical audiovisual sculpture
Chain Reaction is a journey through a series of five artworks. It explored the fluid nature of time through playful, interactive and mechanical movement, synthesizing digital and analogue technology. Sponsored by The Royal Academy of Engineering, Trope have developed the installations alongside Engineers from City University where objects in the museum were resuscitated and reframed by digital technology, allowing the artists, to re-animate the basement space of Kirkaldy Testing Museum in a unique, ghostly ballet, using the D-Scope® technique.
---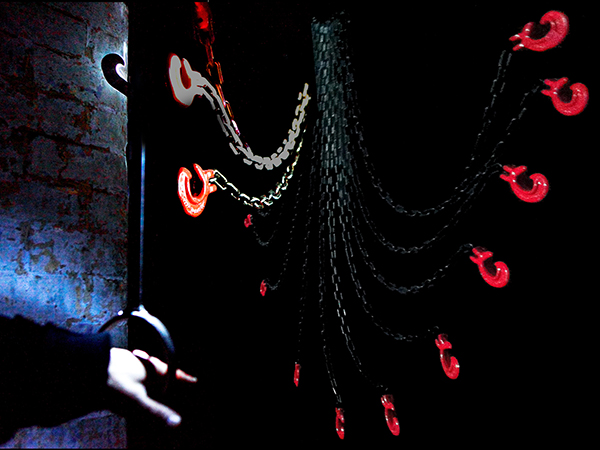 Chain Reaction (Artwork 5 of 5, Swinging chain) 2015
3m x 2m x 1m.
Cast iron hooks, welded metal, copper pipe, plastic, video projector, speakers, micro-controller, sensors.
Kinetic interactive audiovisual installation